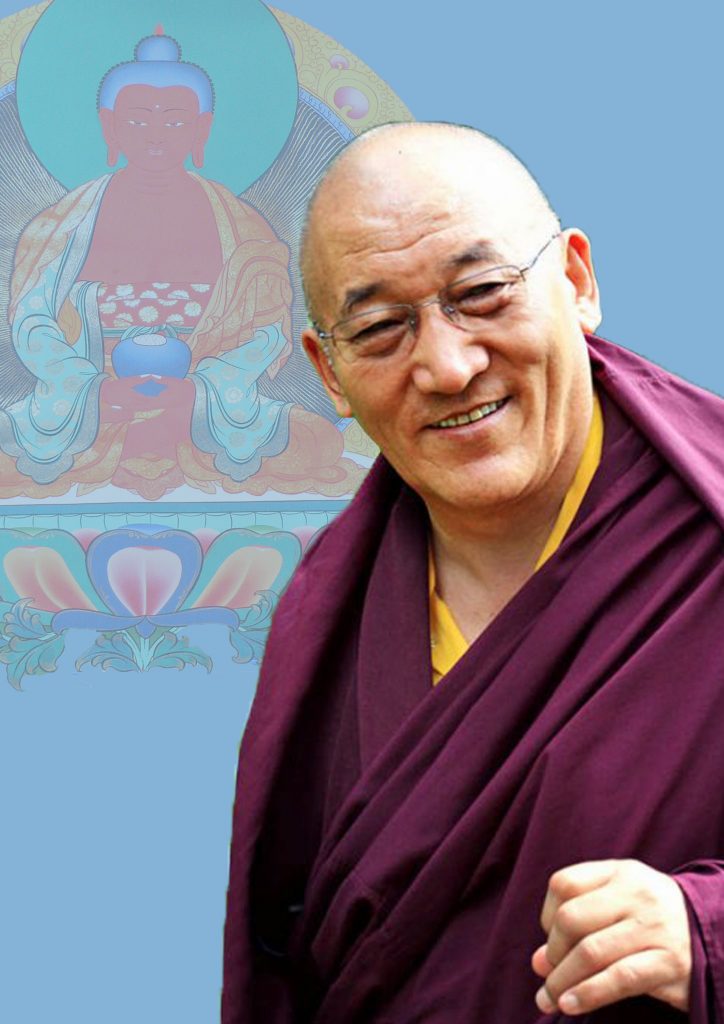 H.E. Chöje Ayang Rinpoche is coming to Toronto to bestow the Phowa course teaching and to host other Dharma activities between July 26th – August 4th,2019. Rinpoche will teach in English with Vietnamese and Mandarin translation provided.
There is no fee to attend the Phowa Course, but registration is strongly recommended to reserve your space.
The methods of registration:
Register Online: Registration Form
By Email: Please email us at [email protected] included with your name, phone number, email address, mailing address and indicate if you need text books.

By Phone: Please text message to 647-909-3288 for registration.
Text books cost $35.80 (after tax) per set.
法本成本:税后35.80加币一套
Venue上课地址: 30 Elgin St, Thornhill, ON L3T 1W4
Interview needs to be booked by email request. Please email us to [email protected], please also indicate your name, cell phone and the interview time that you preferred in your email, as well as a subject with a key word "Interview" for us to sort and to schedule your interview.
Ayang Rinpoche says, "My Phowa teaching is for a joyful end to one's life. While you are alive, don't forget about preparing for your death, as we don't know when or how our life will end."
Being in Samsara we have to endure the four sufferings: that is, being born, growing old, being sick and finally dying. As we have already been born, the first suffering is over. Now we have to face the three sufferings which follow.
We grow old with each second, each minute, each hour and each day. There is no stopping it. No matter how we try with different modern methods, we cannot delay or reverse the process of growing old. We can never make ourselves younger.
As we grow, with time, sickness befalls us. There may be many who will help us in this suffering, such as our family members or friends, and many different kinds of treatments. But ultimately we still have to endure this suffering.
Then comes death, our final suffering of this life. The biggest mistake that we can make is not to think about it. When death is upon us, no one can help us–not our family members or friends. We alone have to face it. The results of our past positive and negative deeds are laid before us.
Rinpoche introduces practitioners to both Nyingma and Drikung Kagyu Phowa practices that will prepare one to face death with confidence. It is the best way to be free from the final suffering of death. It is the easiest way to reach Buddha Amitabha's Pure Land, and from there, the quickest way to reach enlightenment.
尊貴的  安陽仁波切將於2019年7月26日至8月4日,蒞臨多伦多給予頗瓦法十天的教授。
頗瓦法又名遷識法,是密乘教法臨終即身解脫成就,往生西方極樂淨土的不二法門。
仁波切謹循至聖的  十六世大寶法王之指示,於1982年開始在西方各國家致力獻身於頗瓦法的教授,其不僅持有直貢噶舉與寧瑪破瓦的傳承,亦為當今眾所皆知最具公信力的破瓦大師。於此頗瓦法教學中  安陽仁波切將親自給予灌頂、口傳及教授,並帶領實修頗瓦遷識,結下往生阿彌陀佛西方極樂淨土之因緣,請大家把握殊勝的緣起。
Daily Schedule is as below:
每日课程表如下:
July 26

Friday

9 AM
阿弥陀佛灌顶前行准备(只限仁波切和侍者)Empowerment Preparation (Rinpoche and attendants only)
2 PM
阿弥陀佛灌顶*Buddha Amitabha Empowerment
July 27 Saturday
9AM
破瓦法教授Phowa Teaching (To be continued)
2PM
破瓦法教授Phowa Teaching (To be continued)
6 PM-9PM
破瓦法教授Phowa Teaching
July 28

Sunday

9 AM
Interview time
2 PM
宁玛破瓦法口传加持* Nyingma Phowa Oral Transmission Blessing

金刚萨埵四力* Vajrasattva Teaching-Four Powers

6 PM-9PM
金刚萨埵禅修教授Vajrasattva Visualization Meditation Teaching
July 29 Monday
9 AM
宁玛破瓦法实修Nyingma Phowa Practice
2 PM
直贡破瓦法教授DrikungPhowa Teaching
宁玛破瓦法实修Nyingma Phowa Practice
6 PM-9PM
July 30 Tuesday
9 AM
直贡破瓦法口传加持*DrikungPhowa Oral Transmission Blessing
2PM
直贡破瓦法实修DrikungPhowa Practice
6PM-9PM
直贡破瓦法实修DrikungPhowa Practice
July 31 Wednesday
9 AM
三殊胜教授*Three Excellences Teaching
  2 PM

4.30 PM

直贡破瓦法实修DrikungPhowa Practice
6 PM-9PM
宁玛破瓦法实修Nyingma Phowa Practice
 August 1

Thursday

9 AM
阿弥陀佛修法基本介绍及禅修教授*Buddha Amitabha Meditation Teaching
2 PM
中级宁玛破瓦法实修Medium Nyingma Phowa Practice
簡短 Namcho 阿彌陀佛法本修法*Namcho Amitabha Short Sadhana Practice

唱誦阿彌陀佛淨土祈願文*Pureland Long Aspiration Prayer

6 PM-9PM
August 2 Friday
9 AM
如何在临终时为亡者修持破瓦法之教授Teaching on doing Phowa for Others at the moment of death
2 PM
米拉日巴荟供*Milarepa Tsog Offering Prayer
6 PM
Namcho Amitabha Short Sadhana Practice DrikungPhowa Practice
August 3 Saturday
9 AM
如何在临终时为自身修持破瓦法Teaching on doing Phowa for Oneself at the moment of death
2 PM
(短轨)直贡破瓦实修Short DrikungPhowa Practice
6 PM
如何在课后日常修持破瓦法之教授Instruction on Phowa Practice after the course
August 4 Sunday
9 AM
Interview
2 PM
阿弥陀佛荟供* Buddha Amitabha Tsog Offering Prayer (To be continued)阿弥陀佛荟供* Buddha Amitabha Tsog Offering Prayer

Liberation for Dead Beings 大悲勾超度法会